Online Counted Cross-Stitch Patterns!
We hope you enjoy browsing through our extensive online Pattern Gallery. We have over 4000 original counted cross stitch patterns to choose from, by many popular professional artists and designers, and we're constantly adding new designs. All of our patterns are printed instantly online. Instead of publishing and shipping leaflets, our patterns are delivered instantly to you on our website. No more worrying about your patterns getting marked up, worn out or lost - if you need a new working copy just print one out anytime! Try one of our Free Patterns to see how easy it is!
Print patterns instantly, right on our website, anytime you like. It's fun and very easy! And since nothing is shipped, there's no waiting and you pay no printing, or shipping/handling fees.
Your patterns can be accessed on the Internet at any time, from any computer. That allows you the freedom to borrow a friend's printer, or print at the office, or even use your local print or office supply company if don't have your own printer. We also offer a yearly membership which gives you additional discounts plus full access to our online Caption Maker tool - Now with 40 alphabets plus borders and custom samplers!
With our Caption Maker you can type in names, sayings, poems, or any words or letters that you like and instantly create a chart! Choose from several different cross-stitch letter styles.
Instant Access - Print all Patterns Online!
• Try our Free Patterns to see how easy it is!
• Caption Maker to instantly chart your own words or alphabets!
• Also, don't miss our Message Board
Popular Patterns: - Click on the pictures to view...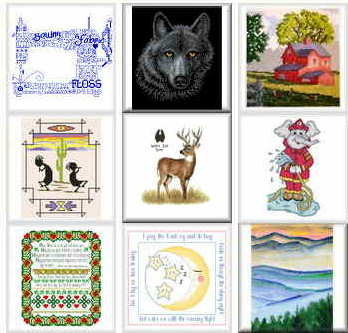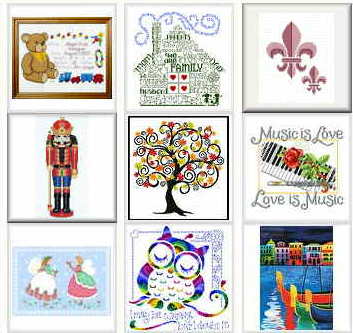 Words
- by Ursula Michael
Caption/Border Maker
Create text charts.

New Cross Stitch
Pattern Oct 19th
What people are saying...
I thought I would show you my finished Saint Nick piece. As you can see I only stitched the middle part of the design. I stitched it over 1 on 22 ct fabric so I could make it into an ornament. Thanks for the great designs, I can't stitch them fast enough!"
Cathy D - Trenton ON


I have been renewing for the last 4 years. I have seen several improvements in the website and best of all in the patterns. I have learned and loved crosstitch much more after I found your site. Well done and go on improving. God bless you all"
Sandra H.

I too have done many charts - all the nutcrackers, and several others. I LOVE these patterns, this is the first place that I look for a new project!!"
Beverly from Washington State

I just wanted to let you know how glad I am to have found your web site. It is the best for cross stitching. Your patterns are beautiful and they print out so nicely and easy to read. Thanks for all your hard work and effort to keep stitchers like me happy."
Sincerely, Heather from Springfield

I think this is a Great website. Through a cross stitch round robin I have made new friends and you have taken you time to reply and answer several questions for me . I have used quite a few of your patterns and enjoyed making each one. Thanks for all your time and trouble."
Jackie from Garner, N.C. USA

First of all, your site is my favorite crossstitch site...the patterns just don't get any better than yours! I've done many of them as well as a few you have designed for me from photos. I'll be a member.. until my eyesight fails!!"
Joann B - Alabama