Online Counted Cross-Stitch Patterns!
We hope you enjoy browsing through our extensive online Pattern Gallery. We have over 4000 original counted cross stitch patterns to choose from, by many popular professional artists and designers, and we're constantly adding new designs. All of our patterns are printed instantly online. Instead of publishing and shipping leaflets, our patterns are delivered instantly to you on our website. No more worrying about your patterns getting marked up, worn out or lost - if you need a new working copy just print one out anytime! Try one of our Free Patterns to see how easy it is!
Print patterns instantly, right on our website, anytime you like. It's fun and very easy! And since nothing is shipped, there's no waiting and you pay no printing, or shipping/handling fees.
Your patterns can be accessed on the Internet at any time, from any computer. That allows you the freedom to borrow a friend's printer, or print at the office, or even use your local print or office supply company if don't have your own printer. We also offer a yearly membership which gives you additional discounts plus full access to our online Caption Maker tool - Now with 40 alphabets plus borders and custom samplers!
With our Caption Maker you can type in names, sayings, poems, or any words or letters that you like and instantly create a chart! Choose from several different cross-stitch letter styles.
Instant Access - Print all Patterns Online!
• Try our Free Patterns to see how easy it is!
• Caption Maker to instantly chart your own words or alphabets!
• Also, don't miss our Message Board
Popular Patterns: - Click on the pictures to view...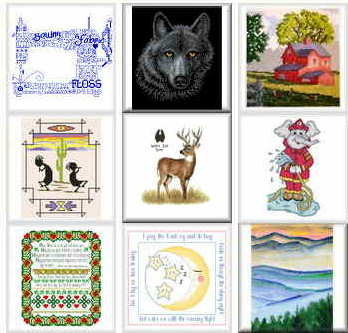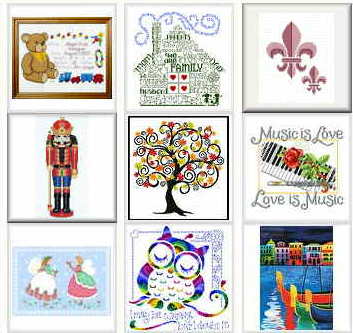 Words
- by Ursula Michael
Caption/Border Maker
Create text charts.

New Cross Stitch
Pattern Jan 13th
What people are saying...
AMAZING - That's the word that folks have used when I showed them my x-stitch of King Tut in various stages. Finished it for a friend, who was absolutely delighted. I hadn't x-stitched in years, until I came across this site. I've now completed 3 project, including a custom-design and I'm hooked. Your designs are absolutely great. Thanks."
Shirley - IA


I just finished the girl in sepia tones and am very pleased with the results. Thanks again for the great pattern!"
Lee - USA

I would like to let you know I enjoy your website immensely. It is the only website I have found that you can print out the cross stitch patterns. The patterns are amazing. I am an avid cross stitcher, who enjoys to give them away after I have made them. This site was a dream come true for original patterns. Thank you again,"
Jenny - OH

I think your web site is the best one ever. Your charts are great, the grey wolf chart is absolutely beautiful. Thanks for all your hard work, and I hope you decide to do this for a long time. I intend to be a member as long as you are around." Sincerely,
Mary Lou - Macungie, PA

Thank you for all your patterns so far!! I have completed 12 up to now and have not been disappointed with any of them."
Chris - U.K.

These are the best patterns I've found on the web. Thank you so much for doing this site. I don't know which pattern to start first! Thanks Again!"
Sonja - Winnipeg