Crosstitch.com


One of a kind Cross Stitch Patterns from your Photos...
Tips for choosing your photo:
G
enerally, your photograph should be of only one subject if you want your picture to show reasonable of detail. For example a close-up photo of a pet almost always makes an excellent cross stitch. Close-ups of faces are also good as long as it is a good photograph and not poorly lit or blurry, etc. A group of people is generally a poor choice because each face will have very little detail. If you have a very detailed scene it will look more impressionistic and less like a photograph which can also be quite effective but all fine details will be lost. If your photo shows too much clutter, just indicate what part you want and we'll zoom in on it and crop out the rest. This is usually necessary for the main subject to have enough detail, and not have a lot of un-necessary background to stitch. The average stitched size of most patterns is about 112x140 stitches, or 8"x10" stitched on 14ct. More detailed pictures may require larger graphs. Please specify the finished size you want but in some cases we may have to increase the size to produce a good picture. See
Choosing a Size
for more info.
Y
ou can specify normal color, gray tones, sepia tones (or even other mono-chrome color ranges such as greens or blues, etc.) See examples below. Sepia tones are great for the look of an antique photo. We can also make any adjustments that you specify, such as removing the background or portions of the background. Items in front of the subject generally can't be removed though (like a tree in front of a house). If you have any other ideas, don't hesitate to ask. We can also add a title or some text in back-stitched lettering.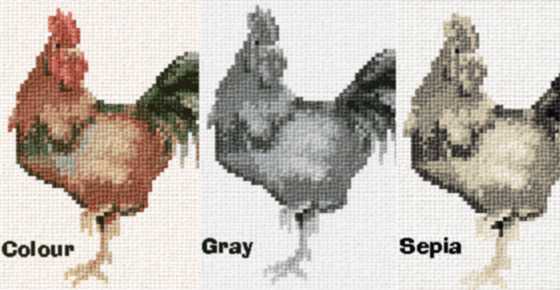 D
on't forget you get to view your image on your own
Preview Page
before we actually chart it. This gives you a very realistic look at your design to see if it's what you expected and
if you don't like what you see, you don't pay!
If we feel your photo will not produce a good cross stitch as specified, we will contact you and make suggestions for changes, or refund your order completely (including any shipping charges).
Photo to Pattern:







©Crosstitch.com
all images and material copyright and may not be used without permission.