Crosstitch.com


One of a kind Cross Stitch Patterns from your Photos...
Not all photo-to-pattern services are equal. We put a lot of pride and effort into every pattern we create. The thread colours that go into the pattern are chosen individually by eye and input into our own unique colour conversion software. Your image is touched up with our image processing software (by hand), to correct colors, improve detail and to remove defects.
Beware of bargain photo-to-pattern services - Anyone can scan a photo, load it into a charting program and print out a chart, but I assure you it won't look as good as with our process. In fact, if that's all you're getting you might as well buy a program and do it yourself.
We often get asked what software program we use. The fact is no commercial software program can come close to duplicating this process. Our experience and expertise (over 20 years designing patterns) are what make our pattern conversions great. We use several different image processing programs, depending on the particular photo, before the picture ever gets to the charting software. We also take the extra time to isolate groups of colors, such as flesh-tones, blues, grays, browns, greens, etc. and then choose the individual closest matching related thread colors, by hand, for those groups. It isn't possible for a software program to do that.
The pattern on the left below was created using only "Pattern Maker Pro" from Hobbyware. The software does what it can but it just can't do it on it's own. There are many extra un-necessary colors (twice as many colors in total), odd shades inter-mixed, and colors that are just wrong. This also makes it much more complicated to stitch.
Which pattern would you want to stitch?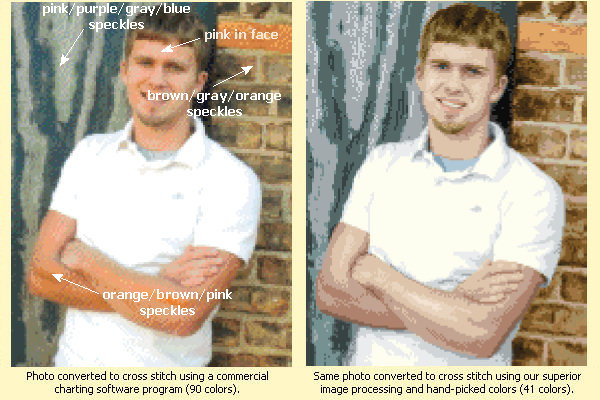 Photo to Pattern:







©Crosstitch.com
all images and material copyright and may not be used without permission.