Crosstitch.com
One of a kind Cross Stitch Patterns from your Photos...


Stitch your own 'Work of Art':
Besides designing our own original patterns we also design custom patterns from your photographs or from any flat artwork. Take advantage of our high quality equipment, design software and our years of experience to design your own treasured work of art.
We don't just scan your image into a pattern program and print it out (you could do that yourself). We take the time to make each pattern a unique work of art!
Click Here to find out more...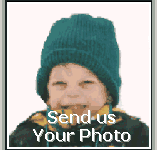 ---
See your image before it's charted on your own
preview web page !!
View some of our past previews to see what other people are stitching.
---
Photo to Pattern:







©Crosstitch.com
all images and material copyright and may not be used without permission.